Each year hundreds gather at the Senior Care Marketing and Sales Summit (SMASH), a dynamic convention designed to educate and strengthen the skills of sales representatives and marketers in senior living. This year, I was fortunate enough to represent GlynnDevins alongside Chrissy Mealy, our director of paid media, and partner with Google in a joint presentation focusing on online user experience and how it influences consumers.
In the hour-long session, we touched on various digital-related topics including:
The current state of digital and what it means for the senior living industry
How to best meet consumers' expectations online
Content that consumers, specifically seniors, interact with online
If you aren't optimizing for what users are searching, someone else is.
At one time, we optimized for search engines. Now we optimize for users. Every hour there are at least 6,000 searches related to senior living.
According to Google:
93 percent of all online experiences begin with a search engine
75 percent of users never scroll to the second page of a site
In senior living, paid and organic search account for 70 percent of traffic to a website
"I want to" moments
Captivating the user's attention through search is only half the battle. The next step is maintaining their interest long enough to encourage further interaction with your content or interactive elements, increasing time-on-site and overall engagement.
So how do you achieve this? In our presentation, we explained that this can be done through various "I Want To" moments.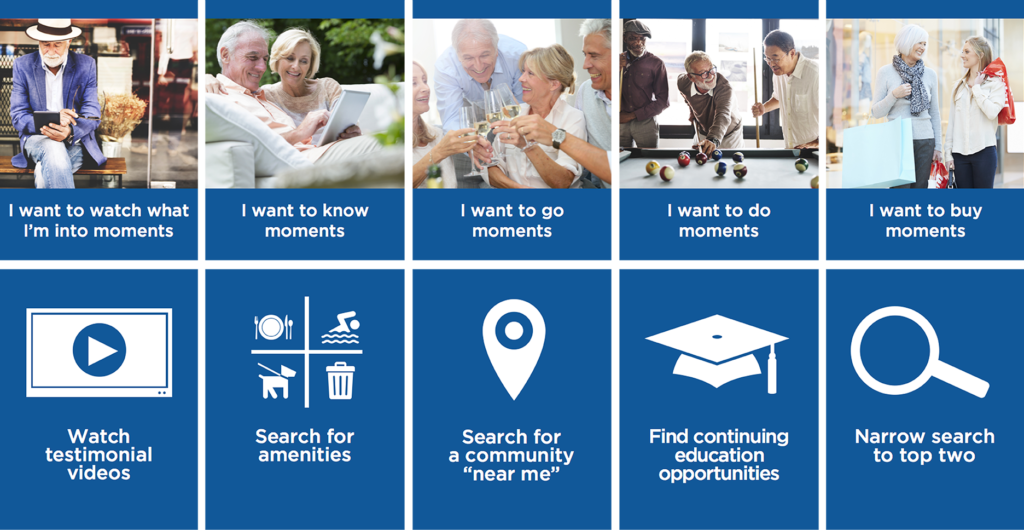 And these moments are easily translatable to our consumers in senior living.
I want to know more about your community, so I search for offerings, amenities and levels of care
I want to go, so I search for a community near me
I want to watch what I'm into, so I view testimonial videos to learn more about life at the community and the activities that will be available to me
Video Content
One key way to capitalize on moments is through video. This form of content is highly consumed by our senior living audience, and it can provide emotional connections through storytelling, testimonials and showcasing communities.
Using sample comparisons from some of our GlynnDevins client websites, we shared that consumers spend more time on sites with video – almost eight minutes longer – than sites without it.  And they are viewing, on average, nine more pages during their visit.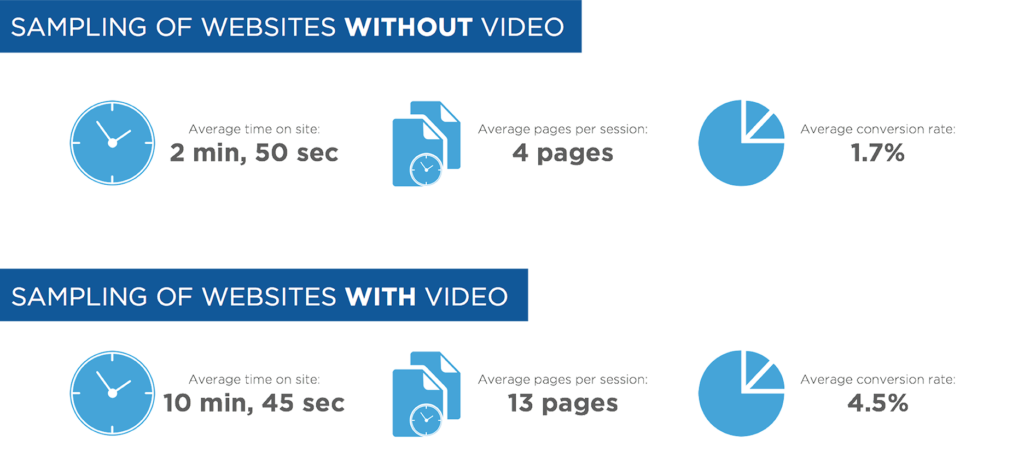 Not only do videos significantly increase engagement, they also build authentic connections with current and future residents. Utilizing video is relatively easy if you put the effort into it and use your resources to your advantage.
First, involve your residents – they are your best assets.
Second, repurpose all of your video assets for cross-channel distribution. Outside of your website, Facebook is another great platform for sharing video content.
And lastly, capitalize on events happening right now ­ – capitalize on the moment.
Consumers have higher expectations than ever before
In the senior living industry, there are two distinct targets we're all familiar with – seniors and adult children. The senior is looking at aspects such as community fit, the financial details and a plan for care, whereas the adult child might be paying closer attention to things like the location and quality of care. They have different needs and emotional triggers, but one thing they have in common is utilizing search to find content that addresses their needs.
Our presentation emphasized that these consumers have higher expectations than ever before, therefore it is paramount that we as marketers meet them where they are throughout their entire online experience.
See the full Enhancing Consumer Experience Through Search, Video and Future Technology presentation here.
Special thanks to our partners at Google, Isha Vij, development manager, and Eric Griscenco, agency account strategist, for their help with the presentation at SMASH.