Historically, paid search has been one of the most efficient digital lead generators in the senior living space. Recently, paid social ads, specifically on Facebook, have proven to be a viable tool to reach seniors and adult children. When strategically used together, the power of paid search and paid social can be a game changer.
Let's take a moment to take a look at both tactics.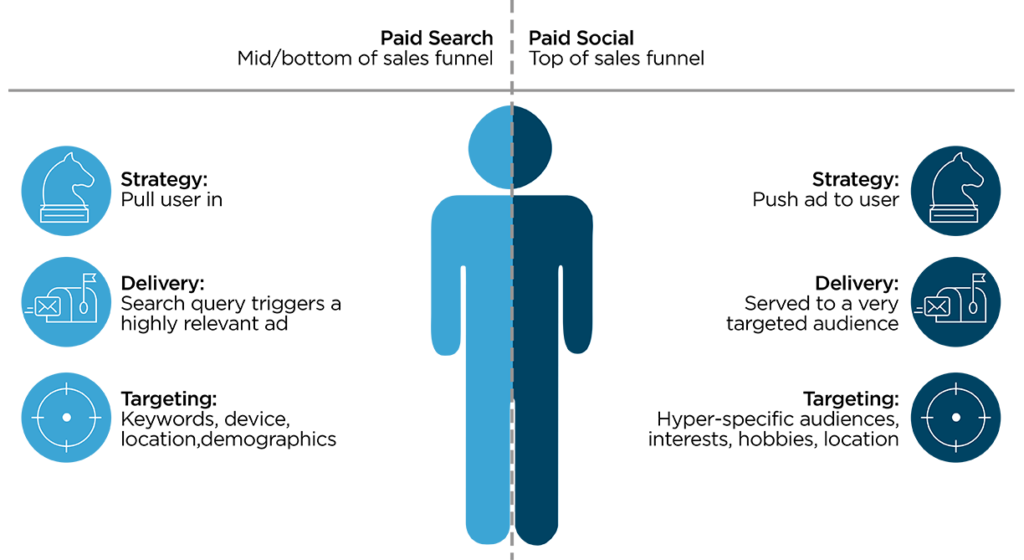 While both are viable and efficient marketing tactics, their primary differences can be used in our favor to complement one another.
Paid Search (Google/Bing)
Paid search captures the intent of the user based on search queries and keywords. This means the audience is actively researching, and when a relevant ad is shown, it will likely result in a click-through to the website or landing page.
Paid Social (Facebook)
Paid social shows ads to users who may or may not be aware of or engaging with your brand. In fact, it's possible that the user doesn't even know they're interested in the product/service being offered.
Paid social advertising generates broad awareness, which then drives consumers to search. Here's a fictitious example of the journey an adult child influencer may take.
Meet Sally from Austin, TX. Sally has noticed her aging mother is needing extra assistance with daily activities and started researching options online for assisted living. One day she's scrolling through her Facebook newsfeed, when an ad from an area senior living community catches her eye. She clicks on the ad (which is targeted to users who have shown interest in senior health services), reads about the community, but needs to get back to work.
A few days later, talking with a friend about her mom over coffee, she's unable to recall the name of the community, she simply searches "senior assisted living in Austin" on Google, and is back on the website in seconds via a search ad.
Weeks go by and Sally is scrolling through her Facebook newsfeed and is reminded about the community by an ad. She clicks and decides it's time for more information, fills out the form and hits "Learn More."
Sally's decision to fill out the form was a result of both tactics working together. If Sally hadn't been served that initial ad on Facebook, she may have never performed that Google search and recognized the name of the community. Without a paid search campaign in place, Sally would have been served ads, but not an ad for the community she learned about on Facebook. As a result, another senior living community would have earned her click and possibly a new move-in.
Paid search and paid social reach consumers at different stages of their journey; as a result, they support one another. The intersection of the two channels along the path to conversion influences the decisions made by the user and often result in a qualified new lead.
At GlynnDevins, we make sure to have a cohesive strategy in place that flows across all tactics, with messaging designed to fit each step of the customer journey. We rely on the data to make decisions on when and where to optimize, based on what "marketing mix" is working best.
Paid search and paid social are rock stars on their own, but together, they're a dream team, working to maximize potential of the digital marketing budget.
Tap into more of our senior living resources here.