A senior living marketer's guide to content marketing and SEO
Are you creating content that speaks to your audience's needs and answers the questions weighing on their minds – at all phases of the buyer's journey?
Here's why you should be
Organic searches account for approximately 50 percent of traffic to senior living websites. Sometimes even higher.

That means someone is searching for memory care or assisted living or senior apartments in their city and region right now. Why not have the most authoritative voice to address common searches and win your audience's attention?
Take Google, for example. When searching memory care, auto-suggest forms feed us search terms based on what people are searching.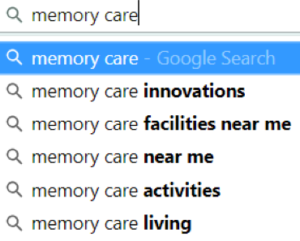 This single search for "memory care" provides us insight into a topic we know is important to our consumers. It also can show us what type of content exists and is ranking in the market we serve.
What common questions do people ask about memory care?

What else are people searching related to memory care?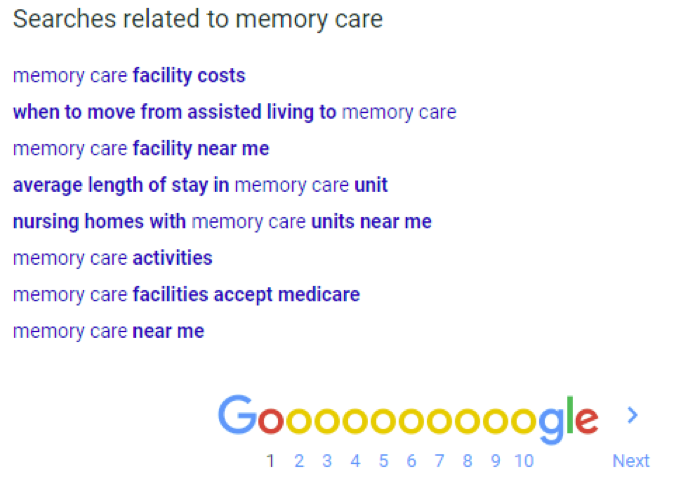 Optimize content for search and social.
No one is asking for more content. However, they are asking for answers to their questions. What is assisted living? Can I afford senior living? Does your community allow pets?
Keyword research is at the core of any content marketing, SEO or PPC campaign, and digital strategists use several tools to help them win more searches. While the above example of a broad search term gives us insight into questions consumers have, it can be difficult for a stand-alone community to rank for a term like memory care.
It's important to layer in geo-specific keywords to content, so you can own local searches. It's also helpful to understand ranking factors and that proximity to the searcher is one of the top local search ranking factors.
Seniors and their families desire transparent access to information to make better decisions, for a better view into the lifestyle and personality of each community, and for engagement on their own terms and on their preferred channel.
Use keyword research and on-site and off-site SEO and social media strategies to earn more share of voice than competitors. Fresh content on blogs and amplification on social media accomplish key SEO factors and help drive engagement, traffic and pique the interest of new leads.
Inbound marketing: an opportunity worth investing in.
Inbound marketing (content marketing/blogging, SEO, and social media aligned to attract leads and prospects to your website) is an opportunity to increase quality organic traffic while working collaboratively with your entire marketing ecosystem — UX and website development, editorial and design, PPC and native, and marketing automation.
This approach takes commitment, a focused and agile team, and strategic oversight. Ongoing efforts may take time to yield results but tend to have the highest ROI of any long-term online marketing strategy.
Before getting started, here are 4 must-haves for senior living marketers to be successful:
Solid understanding of your audience.
This means access to and interpretation of data and insights, and an empathetic understanding of the user and their behavior. Don't let data become overwhelming, because at the end of the day, it will help you get to know your leads and prospects better.
Willingness to try something different.
The value of inbound marketing is long-lasting. When done well, it creates less marketing waste and more targeted engagements. Digital content formats you might invest in include blogs, explainer videos, social graphics, interactive floor plans and virtual tours, cost calculators, infographics, checklists, and downloadable guides. Or try something a little bolder and develop a vlog or podcast to build thought leadership.
Organizational alignment to business objectives.
We've all witnessed firsthand the consequences of creating content without a strategy. Don't create content for the sake of creating content. Every piece of content should have a purpose and a plan to gain traction, drive traffic, increase conversions or provide some type of real business result. The goal is to create content with the intent to guide potential consumers toward a decision.


Low value for consumers
Limited opportunity for engagement and sharing
No guarantee content will be seen
Low ROI for marketers
Commitment to delivering better experiences on the channels you own.
Your website. Facebook. Email. YouTube. Start thinking more about how to design a better content experience for your prospects and leads, content gaps you might need to fill, or areas of opportunity you want to explore next.
Getting started: prioritizing your investment.
We're often asked: "What content should we invest in for our senior living community?"
Here are 5 types of content worth investing in:
Keyword-optimized content your audience can easily find
Content that answers consumers' questions at different points along the buyer's journey and helps them make a more informed decision
Content that shows off your brand's personality and gives consumers a peek into the lifestyle your community offers
Content that can be creatively reused and serves more than one purpose
Content your competitors aren't creating (but is useful and needed)
Questions to ask when developing your strategy:
How will this help achieve our business objectives?
Who are we designing this for?
What question(s) or pain point does this need to address?
What format should the content be created in and where will it live?
How will our audience find it?
What content might we already have that we could repurpose or update and republish?
How will we deliver this content?
What does success look like?
Asking these questions allows you to:
Prioritize which content to create
Define why you're creating content assets in the first place
Determine a distribution plan
Stay true to your strategy by outlining how content will help you achieve business objectives
Still on the fence? 7 compelling reasons why senior living marketers should invest in content marketing.
To convince seniors and families to shop for senior living sooner — and then to move sooner, rather than later.
To challenge perceptions about what senior living at your community is.
To engage with prospects at their point of need, 24/7.
To help prospective residents picture themselves at your community.
To equip your audience with information to confidently approach challenging subjects with family members.
To bring a more informed, sales-qualified lead to the community.
To support sales teams with content they can use (and reuse) as part of the sales process.
For more information on how to get started with a content marketing plan, check out Content Marketing: 6 Steps to Success.