In a world where we're bombarded by roughly 5,000 different advertisements on a daily basis, consumer expectations are changing. We expect to get the information we're looking for when we want it, how we want it, and where we want it. As such, successfully marketing any product or service has become a complicated endeavor, particularly in the increasingly crowded senior living market.
How can you keep up with other brands and competitors who seem to be embracing the changing times and delivering their message across all channels? Especially when your budget may not be scaling at the same rate?
On Thursday, February 20, Amy Alvarado Plank, director of sales and marketing for Legacy Pointe at UCF, and Janel Wait, chief strategy officer for GlynnDevins, took time to dive into how communities can, and should, be leveraging data and technology to understand their buyers better, and deliver the right message at the right time to the right prospect, in order to maximize their investment in marketing and sales.
1: Mainstream brands are leveraging data and technology to market and sell, and so must you to compete for consumers' attention.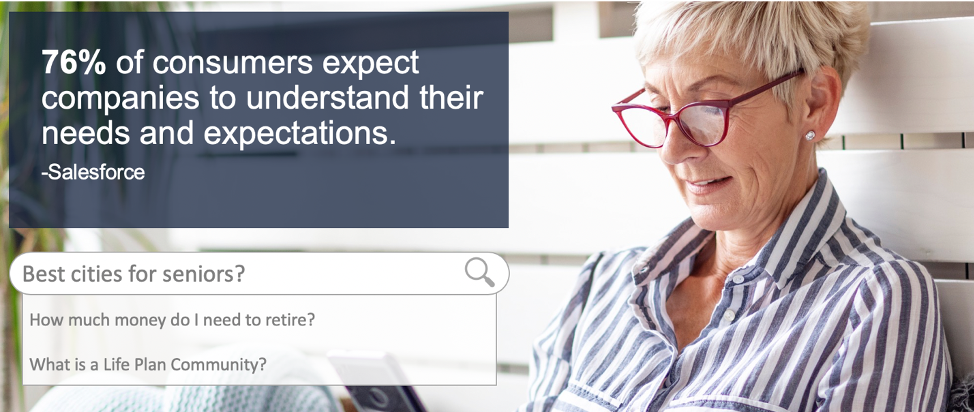 In our webinar in particular, Janel spoke to her experience with massively popular fitness brand Orangetheory. After injuring herself on a trip abroad, she had several friends suggest the new wave gym for rehabilitation.
After visiting the website, Janel was targeted with the following tactics:
Facebook and Instagram ads reiterating an on-site promotion of two free classes
Targeted, behaviorally driven direct mail
Geofencing around her previous gym, conquesting mobile ads that encouraged a change
Once she filled out a form to learn more about the promotion, she received several phone calls, but elected not to answer those calls, because she preferred to be reached out to through a different channel. When Orangetheory began sending text messages, that's when she opted to engage.
What did we learn through this consumer journey?
2: With the right set of tools in place, your organization can gather as much (if not more) data than competitors.
Let's continue to lean into the Orangetheory example that Janel provided. How did they capture her data, and how can it be translated into a marketing plan for your community?
Original targeting was propped up by third-party data to determine if there was a "lead fit." The geofencing and hyperlocal paid social was driven by on-device GPS data, assuming that Janel had her location sharing settings open on her smartphone. Digital behavior was then scored based on what actions she took on the website and how she received each piece of content through different channels.
A combination of digital engagement and person-to-person activity was recorded using their CRM and Marketing Automation Platform (MAP). Was she willing to take a phone call? How long did she linger on the page advertising two free classes? Did she click through after an onboarding email caught her attention?
Every element of Orangetheory's omnichannel approach is relevant to senior living. You must:
Understand the buyer
Educate buyers throughout their journey
Communicate with buyers before they walk in the door
Understand which touch points work
3: "More leads" is not always the right answer. Personalization is the key to conversion, not customization.
Amy's story about the database she adopted after moving into her role at Legacy Pointe is a great one. A lack of conversion is often blamed on a lack of leads, but what happens when the number of leads you have actually suffices? The real challenge comes in mining that database to find your "sales-ready" leads. The harsh reality facing every community or system is that counselors have limited time and resources to work every "good" opportunity.
In the case of Legacy Pointe, each of her team members was assigned over 1,500 leads to work. That's a staggering amount of follow-up and persistence in order to make any progress. Luckily, with tools like the GD Lead Predictor Score and a finely tuned MAP, Amy and her team were able to automate elements of the sales cycle. This freed them up to focus on adding more of a human touch to each interaction, and lead prioritization has become a pivotal part of their business acumen.
"We can't reach every person every day. What's wonderful about the automated content is that it continues the sales call or the communication with the prospect. It's helpful for us not only in that regard, where they may be able to continue the conversation when we physically can't;  it also helps us see if they opened certain emails or visited certain pages to inform our calls or additional conversations. What makes each one of these touch points more significant to them? It allows us to personalize the messaging when we do push forward to the next touch point." 
—
In addition to hearing more of Amy's story, tune in to the on-demand webinar to learn about:
Data points you can use to inform your marketing and sales programs
Identifying patterns in your data to improve segmentation
Surrounding the consumer with relevant messaging through hyper-targeted tactics, much like Orangetheory
Integrating technology that will allow you to scale and compete
Watch today: https://go.glynndevins.com/consumerexpectationswebinar