Updated: APR 1, 2021
The world is a vastly different place than it was even a year ago. As such, buying behavior, sales cycles and especially marketing strategies continue to evolve as a result of global events, consumer adaptations and their ever-changing buying preferences.
Let's take a step back and look at a marketing practice that has become increasingly important for an effective resident acquisition strategy during these changing times: omnichannel.
What is Omnichannel Marketing?
An omnichannel approach to marketing is, at its core, a campaign or a series of campaigns and marketing tools that leverage multiple channels. However, the sophistication of (and key to) a true omnichannel strategy manifests when consumers are given the option to choose the medium in which they want to consume your content.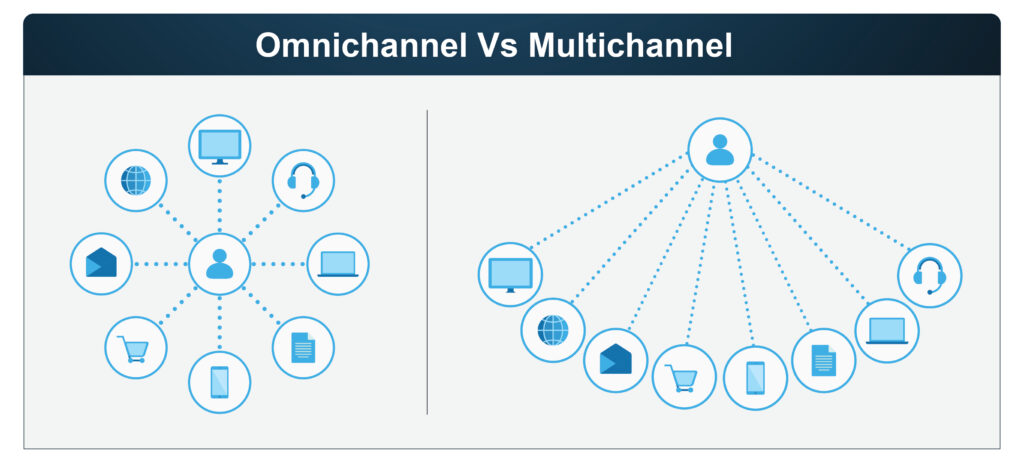 Planning for an omnichannel experience ensures your consumers receive the right message, at the right time, in the way in which they want to receive it. At a time when personalization is key, it's not enough to just observe how your target audiences like to be communicated with. Allowing them to choose their preferences, even subconsciously through engagement with your content, allows you to be even more impactful with your digital marketing budget. By investing in the right tools and technology through a partner like GlynnDevins, the omnichannel experience can be orchestrated automatically.
Most organizations have a website, a few social channels, and maybe an email program that complements the outbound efforts of a sales team. Strategically, you can align those different channels to speak in a similar tone of voice with a parallel call to action or message. However, this lacks the true fluidity of a program that allows for adaptation through marketing automation to meet your consumers where they are in their ever-changing buyer journey.
Furthermore, executing an omnichannel campaign is more complex than adding, "Would you prefer to be contacted by email, text or phone call?" into your website's Contact Us form. Ideally, you would have a bank of contextually relevant content that would be triggered upon the behaviors and actions of your prospects through careful integration of your customer relationship management (CRM) profiles and marketing automation platform (MAP).
As Sarah Dodge, vice president of sales enablement here at GlynnDevins, said in her blog post:
"The criteria are built on behavioral and person-level data, allowing only the most relevant content to be delivered throughout each journey. As behaviors change, profiles in the CRM and marketing automation platform adjust to better understand who that person is and then deliver the content that best resonates at that time. Although this is a one-to-one marketing strategy, the technology and integrations allow for personalization and insights at scale, meaning the effort to deliver, learn from, and adjust the lead nurturing content is not impacted."
In one example, we helped Cappella Living Solutions combine offline and online channels to create truly memorable ways to reengage leads and recapture occupancy opportunities. By layering on data to their existing database, we collaborated with Capella to execute a campaign that focused on middle of the funnel opportunities to increase their inquiry-to-tour ratio.
Inbound and Outbound
While a lot of the focus is on outbound elements of omnichannel in this introduction to the practice, it needs to be said that a cohesive experience is necessary in the event prospects want to do more of their own research. Instead of looking at each of your domains as a desktop experience, a tablet experience, a mobile experience, etc., begin looking at your presence holistically.
The "right message, at the right time, in the way in which they want to receive it" includes your hub for conversion: the website. Every one of your tactics can be absolutely perfect, but if your web experience is one that creates friction in their journey, success will not be actualized. The right set of tools and best practices need to be in place for the rest of the strategy to drive a high return.
—
Making the Shift Toward Omnichannel
Successfully marketing any product or service is a complicated endeavor. Marketing to a sophisticated consumer with such a life-altering decision to make can feel nearly impossible.
How can you keep up with other brands, and competitors, when your budget may not be scaling at the same rate?
Make the shift from disparate tactics and ill-informed targeting to a streamlined omnichannel approach. Here's how to start.
1. Know Your Customer
Before you can empower your prospects to opt into behavioral triggers, you have to know who those prospects are, what they need, and how they think. It's imperative to identify personas for your program to ensure your message resonates with the individuals who are the best fit for your community.
2. Invest in the Right Tools
Technology allows you to be more efficient and scale your marketing programs in a sustainable way. As mentioned above in Sarah's blog post, if you have the right tools at your fingertips, omnichannel strategies can operate as nimbly and agilely as they are meant to in order to provide the largest return.
3. Focus on Full-Funnel KPIs
For your omnichannel campaign to be successful, you need to identify which KPIs are most important upfront of the engagement, mid-funnel, and all the way through to the sale. Having a wealth of data is only as good as its positioning and purpose, regardless of automated components. If you are only measuring bottom-of-the-funnel indicators of success, or "conversions," and not top-of-funnel leading indicators, you won't know where to course-correct your campaign to ensure your marketing dollars are being spent wisely.
4. Optimize Your Program with Data
Speaking of data, to effectively execute an omnichannel campaign, your community must leverage a wide variety of inputs. From behavioral cues to digital habits to person-level data, there will be a constant push and pull to find the most natural (and efficient) way to get to results faster.
In summary, both omnichannel and multichannel marketing aim to deliver a cohesive experience across brand touch points. But in a world where consumers are bombarded by roughly 5,000 different advertisements daily, we can't ignore the fact that expectations are regularly changing. Omnichannel allows your touch points to envelop those consumers and provide them with the ability to step in and out of your messaging with a compassionate level of continuity.
As your marketing plan continues to evolve, consider omnichannel marketing strategies to reduce wasteful spending, build a more advanced revenue machine, and provide your sales team with more time to focus on what they do best: work as advisers for individuals making one of the largest decisions of their, or their loved ones, lives.